I think we can all agree that, over the last twelve months, the world has been a rather different place than we are all used to. There is one constant that you can bank on though, the pet industry have continued to innovate, adjust and refine to make the lives of pets a little better. The Retailer Recommended Awards are your chance to have your say on over twenty different categories and thanks to you, we have had some of the highest voting numbers we have ever seen.
Manufacturer of the Year: BURNS
There's nothing more important to consumers than making sure their pets get the very best food possible. Burns has made it their mission to not only continue to do as much good as possible through their considerable charitable initiatives, but to also produce products that are better for the environment. Burns wet food is hand-cooked in Wales, made with responsibly sourced ingredients and developed as the perfect alternative to home-cooked meals for dogs. This healthy wet food is available in Wild Fish, Hearty Lamb, Organic Chicken and even a tasty Free Range Egg Variety for owners who are exploring a meat-free diet for their dogs.
The Burns wet food has always been hypoallergenic and healthy, which means there was no need for Burns to change the recipe for their wet food. Instead, they concentrated on making the product more sustainable by introducing brand new recyclable packaging instead.
For the last 30 years they've specialised in using simple, healthy and wholesome ingredients to create award-winning recipes that pets love. Since the company was founded by pioneering veterinary surgeon John Burns in 1993, they've released a variety of healthy and hypoallergenic pet food ranges, won numerous awards and sold over 2 billion bowls to date.
---
Wholesaler of the Year: BESTPETS
For an amazing third consecutive year, Bestpets, the leading pet food & accessories wholesaler, has been voted the number one wholesaler at the Retailer Recommended Awards.
For good reason! Over the last, very strange and stressful 12 months the Bestpets team has worked non-stop with suppliers to ensure the best possible product availability for its customers.
Our depot teams have worked tirelessly to make sure deliveries were met as promised, and our doors remained open for all customers. Put simply, we played a key role in keeping the nation's pets fed and cared for.
Launched over 15 years ago as part of the Bestway Wholesale family, we've made it our business to understand the industry and now we have a range of over 8,500 lines covering dry dog food to frozen dog food to grooming accessories across own label which is exclusive to Bestpets and includes products from all of your favourite leading brands.
In addition to our 17 depots nationwide, to support our customers we offer a delivered service via our website or our industry leading shopping app.
---
Wet Dog Food of the Year: FORTHGLADE
Forthglade has been leading the way in natural dog food since 1971, with their Devon factory producing a range of tasty wet meals for dogs to enjoy. Packed with high quality ingredients and each gently cooked to ensure all the natural goodness from the ingredients remains. Forthglade's wide range of recipes include complete and complementary wet meals, cold pressed natural dry dog food and a tasty range of grain free treats, all free from junk or fillers. One of the key reasons Forthglade is such a popular brand to stock is the attractive pricing for the high quality ingredients in the ranges.
The complete grain free wet meals include recipes with 75% named protein such as chicken, turkey, lamb, beef, salmon, or sardine, combined with fibre-rich vegetables - butternut squash and sweet potato with all the vitamins and minerals a dog needs for optimum health. A tasty option of meals with added fibre-rich brown rice is also available with meals including chicken, lamb, turkey or ocean fish.
The popular Forthglade 'just' range offers a selection of delicious complementary recipes which are ideal for those wishing to tailor their dog's mealtimes as it can be mixed with either a good quality dry food such as Forthglade's natural cold pressed or a selection of vegetables for a balanced diet.
---
Dry Dog Food of the Year, Cat Food of the Year, Must-Stock Product of the Year & Sales Rep of the Year: CANAGAN
We are incredibly proud to have won four awards recognising the quality of our products and the dedication of our team. Having been committed to only supply independent pet stores for over 20 years, it is great to have been rewarded with Best Sales Rep.
We only use nature's finest ingredients such as free range chicken, Scottish salmon and delicious field-fresh vegetables. Naturally, all our recipes provide a delicious and wholesome meal for our companions. Our latest product line is our Dental range, which features an exclusive partnership with Proden PlaqueOff. We are the only UK pet food brand to include this wonderful natural ingredient. In working with the VOHC, our Canagan Dental has been clinically proven to reduce tartar and plaque and has been awarded the VOHC seal as a result. In addition to that, we now carry the accolade of being the Muststock Product (Canagan Dental), that is exclusive to independent pet stores.
All of us at Canagan group are extremely proud of our quartet of awards and we thank everyone who chose us.
---
Dog Treat of the Year: FISH4PETS
The champions of fish are well known in the pet food industry for pioneering fish as 'the perfect protein', packed full of natural, healthy goodness for our canine companions.
Karen Hubbard, Product Portfolio Manager at Fish4Pets explains 'we have one of the largest range of treats in the industry, utilising many different varieties and formats of natural, healthy, sustainably-sourced fish, and whilst many of our treats are suitable for puppies, we have never before had a specific life stage range. We have taken three of our leading alluring adult dog treats and formulated them specifically for growing puppies, each product in the range addressing a specific need of a developing puppy.'
The new range gives puppy owners absolute confidence that the treats are appropriate for their new canine companions and that they are safe and healthy for them to enjoy. To support the development needs of a puppy Fish4Dogs  Puppy White Fish Mini Morsels are delicious, tiny fish-shaped treats that are super tasty and enhanced with prebiotics to help support good digestion. Perfect for delicate tummies.
Supporting joint development, Fish4Dogs Puppy Salmon Mini Morsels are flavour-packed, mini fish-shaped treats with added nutrients that support good joint health. All the treats in the new Puppy range are grain-free, healthy, and full of marine-sourced omega 3, known to support joints, skin, coat and cognitive development, so a perfect complement to healthy feeding.
---
Cat Treat of the Year: ARDEN GRANGE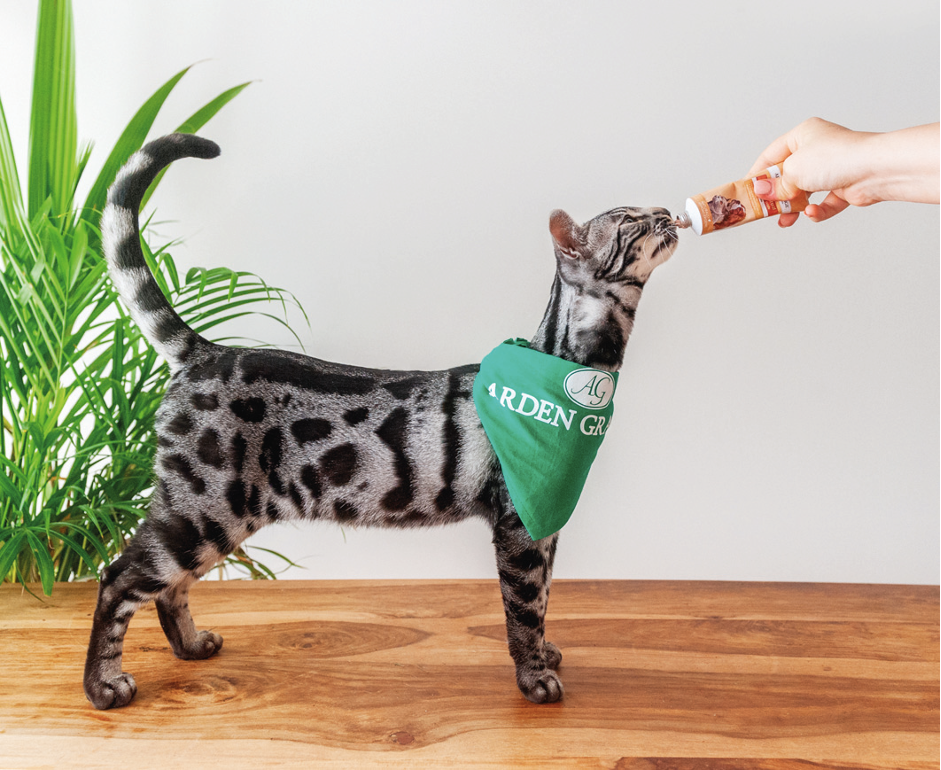 Recently voted 'Cat Treat Of The Year' Arden Grange Tasty Liver paste is a delicious and naturally hypoallergenic super-premium treat for adult cats and dogs. This irresistible recipe is made without wheat gluten, dairy products, beef and soya. There are no artificial colours, flavours, preservatives and the product is completely grain-free.
Developed as a complementary high protein snack full of flavour and natural goodness, Arden Grange Tasty Liver Treat is made with only the finest quality ingredients, including high levels of pork and pork liver for an impeccable meaty taste and aroma. Rapeseed oil is used alongside pork fat to ensure maximum palatability and the correct consistency for squeezing. Rapeseed is a good source of essential fatty acids and vitamin E which have many benefits due to their anti-inflammatory and antioxidant properties.
Tasty Liver Treat is packaged in a convenient 75g aluminium tube, allowing customers to take this product on the go for a quick and easy to feed training aid for encouraging recall. The material of packaging is also fully recyclable.
This highly digestible paste can also be a useful aid in giving medication to your pet, either mixed in with a crushed tablet or with liquid medications on a dish. It may even be used for cats and dogs with kidney problems due to its low phosphorous levels* Tasty Liver Treat can also be used as a palatant. Simply dissolve a small amount (approx. 1 teaspoon for a medium sized dog, use a little more or a little less for larger or smaller dogs or cats respectively) into a mug of hot water, stir and pour over the kibble. It smells delicious and will often tempt even the most reluctant of eaters.
---
Cat Litter of the Year: GO NATURAL!
Go Natural! is a range of sustainable plant-based clumping wood and pea husk cat litters from Catit that are not only kind to cats but also our planet.
The wood cat litter is 100% ecofriendly, biodegradable, and compostable. It is made from FSCcertified wood from sustainably managed forest and made in Europe using all natural ingredients, including various types of conifer woods (pine, spruce, fir etc) and vegetal fibres such as corn.
The litter which is completely free of chemicals, additives, pesticides, plastics, and synthetic scents, turning a cat's litter box and the environment around it into a welcoming cat-friendly zone.
The strong natural clumping action means that it is easy to scoop out waste efficiently, so it doesn't stick to the scoop or the litter box when cleaning. Both litter ranges are pH-neutral and has a natural capacity to control odours and kill 99% of bacteria using patented compounds. It even absorbs up to 3 times its weight in liquid, altogether meaning that the litter will not only last longer but also keep the litter box smelling cleaning for longer.
Every cat owner is aware of the dusty pawprints that are left behind when a cat leaves a litter box, well they don't have to worry any more, both the wood and pea husk cat litters leave minimal mess and is 99% dust free (great for owners with allergies!).
---
Wild Animal Product of the Year: Spike's Hedgehog Food
Spike's a specialist hedgehog food brand with a history spanning over 23 years. Our parent company, Pets Choice, have supported the manufacturing of Spike's food for many years, so when the opportunity arose to buy the brand in 2017, knowing hedgehogs were endangered, we wanted to help and we knew the brand was a perfect fit for us.
We manufacture several specialist foods that are tailored to a hedgehog's needs. Our range of food consists of several different products including Spike's tasty Semi-Moist, Spike's Delicious Crunchy Dry and our Insect Crumble, which is a perfect topper to give hedgehogs that extra bit of something. We also recently launched Spike's Scrummy Meat Supper Can, so we were delighted that this product won the Retailer Recommended Award – Wild Animal Product of the Year!
The Spike's Scrummy Meaty Supper Can contains no artificial flavours or colours and has no added sugar, making it the perfect complementary food for garden visitors. The fact that we won the award just goes to show how truly great this product is for hedgehogs.
---
Small Animal Product of the Year: SUPREME
Supreme's Science Selective range is proving popular with retailers as ever, with the brand winning Small Animal Product of the Year at the PPM Retailer Recommended Awards for the fifth time in a row. With its strong nutrition credentials and focus on supporting retailers, Supreme retains the number one spot. Science Selective gives retailers the widest range of species-specific foods available to add to their small pet fixture. Diets are specially formulated to meet the nutritional needs of small pets including rabbits, guinea pigs, chinchillas, degus and many more. The products are veterinary recommended and align with the strong consumer trend towards natural food, as they are made up of healthy, wholesome ingredients with no added sugar.
Over the last five winning years, the Science Selective range has gone from strength to strength. With small pet owners increasingly favouring grainfree products, Supreme added Selective Naturals Grain-Free rabbit and guinea pig food to cater to this unmet consumer need. Today, this is still the only grainfree extruded diet available for small pets.
More recently, Supreme launched the new Science Selective House Rabbit diet, which consists of a high-fibre forage recipe that mimics the grazing patterns of wild rabbits. This diet is also fortified with vitamin D to cater to indoor rabbits who may be more likely to lack this so-called 'sunshine vitamin'.
Timothy hay is another popular addition to the Selective range, now available in both hand-packed and compressed formats. For pet owners pushed for storage space, the compressed products provide a handy option.
---
Reptile Product of the Year: KING BRITISH
2021 marks the 50th anniversary of King British, which makes winning the Reptile Product of the Year even more special. Having worked with fish and turtle keepers since 1971, King British has grown into one of the most trusted and respected aquatics brands in the UK and throughout the world. Well-known for their fish products, in recent years their King British Turtle & Terrapin products have seen increased popularity.
'We're extremely proud of our Turtle & Terrapin Range, so we are delighted that King British Turtle & Terrapin Complete Food has been named Reptile Product of the Year for the second year running,' said Dr Sue Huggett, Business Manager, King British.
'Turtles and terrapins need such specific care, including a specialist diet, so we've worked hard to develop a nutritionally balanced food that meets their needs. King British Turtle & Terrapin Complete Food contains high levels of calcium, which is essential for good carapace and bone development, spirulina to support health and vitality, and a whole host of other quality ingredients. To have our turtle food named by retailers as the best for turtles is a huge testament to its quality and popularity. Thank you to all our retailers for their support!'
---
Product Innovation of the Year: PET MUNCHIES
Pet Munchies "all natural" Wild Salmon Training Treats are a premium gourmet treat made with 100% natural human grade Wild Salmon meat. They do not contain any artificial colours or flavours; they are also a single source fish protein. Grain and Gluten Free.
Wild Salmon is known to be one of the few natural food sources of vitamin D, a healthy source of minerals and Omega 3, which contribute towards joint mobility and healthy skin and coat. They are soft bite and they make the perfect training aid.
Pet Munchies products are all roasted to perfection in their own natural juices. The vast majority are low in fat, high in protein and all are free from artificial colourings and flavours. With over 40 different varieties to choose from, one will find a delicious snack even for dogs that may have intolerances to certain ingredients and food sensitivities. Pet Munchies treats are full of natural goodness with many varieties that are rich in vitamins and minerals, and those that can help promote good dental hygiene and contribute towards joint mobility and healthy skin and coats.
---
Shopfitting/POS of the Year: SUPREME
Supreme's effective POS material can make a real difference in boosting sales and building customer loyalty, and retailers can benefit from a raft of material to promote their products and encourage repeat purchases.
Supreme's free rabbit kits include a whole range of resources, from traditional POS material such as barkers and wobblers to care guides, free samples and loyalty cards. These kits give retailers useful tools along with the flexibility to use them in a way that suits their outlet.
Free samples are particular hit – retailers can include these in 'new pet' packs, use them to encourage customers to trade up from economy brands, or offer them in advice chats in-store. For owners looking to support their pet's digestive and dental health, Supreme's high-fibre diets provide an attractive option, and these customers often appreciate the chance to check whether their pet enjoys the new food before investing in a whole bag. Since the diets are highly palatable, free sample trials often prove a great success and owners are keen to change their shopping habits in future.
Alongside free samples, Supreme provides 'money off next purchase' coupons to encourage repeat custom. For retailers, these can be powerful tools to help establish fi rm shopping habits when customers are just starting their pets out on a new diet. Loyalty scheme cards are another element of the toolbox to help generate repeat sales traffic.
Finally, while the last year has been incredibly challenging for retailers, Supreme's POS kits do include one fun addition for 2021. Their free face masks with cute pictures of small pets can bring a (hidden) smile to the faces of rabbit lovers everywhere.
By combining all these items, Supreme's rabbit POS kits provide great support for specialist retailers.
---
Cat Accessory of the Year: PetSafe® Brand
There are many reasons cat owners love their pets, from their daily furry affection to the entertainment they provide, but there is often a big downside: litter box odours and scooping.
With cats visiting their litter box many times daily, owners can spend a large amount of time scooping in a bid to keep nasty odours under control. But even with regular cleaning, litter boxes can annoyingly still have a strong smell.
A fantastic way for owners to combat both odours and never-ending tray maintenance is to invest in an automatic litter box. One of the best products for customers to consider is the ScoopFree™ Ultra Self-Cleaning Litter Box from PetSafe® Brand. Retailing at 197.99, it's the only self-cleaning litter box that uses disposable trays. As it controls odour five times better than traditional litter boxes, owners can have a fresh-smelling home while never having to scoop again. And cats get a private, consistently clean place to do their business.
The ScoopFree™ Ultra Self-Cleaning Litter Box:
Rakes cats' waste away into a covered compartment and automatically cleans 20 minutes after the cat has used the box.
Allows owners to set to clean every five, 10 or 20 minutes after use. Its safety sensors detect if the cat has re-entered and stop the rake from sweeping until the cat has left again.
Uses specially-designed crystal litter, packed in a convenient disposable litter tray with leak-proof lining. Absorbing moisture and odour, the litter uses five to 10 times less litter than traditional trays, meaning less waste.
Has a Health Counter that tracks how often cats are using the tray, allowing owners to keep an eye on their pet's urinary health.
Boasts a Privacy Hood that gives cats a sheltered bathroom and reduces litter tracking. With one disposable tray lasting for up to 30 days per cat, customers that invest in ScoopFree™ will spend less time on litter box maintenance and more precious time with their cat.
They can also rest assured they will receive the highest levels of customer support as PetSafe®  offers a freephone number for any set-up or technical questions.
---
Eco Brand of the Year: Edgard Cooper
Edgard & Cooper's ambition is to become the world's most sustainable pet company. Edgard & Cooper started because their founders were frustrated by the standards they found in commercial pet food, but they decided creating a fresh alternative had to also mean treading lightly on the planet from the start. They knew there was a connection between how they ran the business and the impact they had on their beloved natural habitat. This led them to the mission to make people, pets AND the planet, feel good.
As a result of all our efforts to reduce their environmental impact by using biodegradable or recyclable materials, they have saved over 7 million, petroleum-based plastic bags from ever existing. Their 100% paper packaging means they are now fully recyclable too!
It's no secret that the pet food industry is a big contributor to greenhouse gas emissions. Following further research (and lots of long walks in nature), Edgard & Cooper are stepping up our commitment to sustainability. That's why they're the first pet food company in the world to commit to science-based targets to measure their carbon 'pawprint' from 'farm to bowl'. As part of our Zero Pawprint Plan, they aim to reach zero carbon in our operations by 2025. In addition, the plan also includes goals to achieve Fully Sustainable Packaging and 100% Ethical Sourcing.